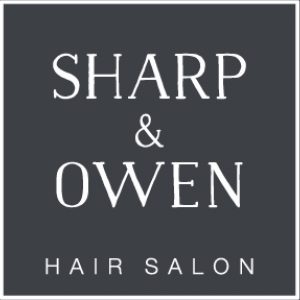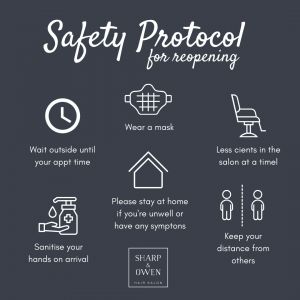 2 July 2020
To all our clients                         
Reopening 4th July 2020
Cashless

 Salon  - 

Card, Paym or Bank Transfer
Opening Hours
Mon to Thur         9-8
Fri Sat and Sun    9-6
Deposit for colour services will be required. 
If you need a skin test for colour you will be advised how and when this can be done prior to your appointment.
In the days before your appointment
If you or any of the people you live with feel ill or display any symptoms of C0VlD-19 – please advise us as soon as possible (Contact Us) and DO NOT COME TO THE SALON FOR YOUR APPOINTMENT. You should follow Government advice self isolate and we will get you booked in for after the isolation period.
If any of our staff feel ill

(or a member of their household) or has C0VlD-19 symptoms, they will self-isolate immediately and not come into the salon.


This may mean that we have to cancel your appointment at short notice

, we appreciate that this may be inconvenient but it is done entirely for everyone, in or visiting the salon, health and welfare.
If your appointment needs to be cancelled we will do all that we can to offer an alternative date or stylist.
---
Prepare for Your Appointment
Come Alone

Bring as little with you as possible

Face Covering

 - 

Your stylist will be wearing a face visor or face covering during your service.  

Please bring your own if at all possible as we only have a limited stock.

Be on time

No waiting area, you will only be allowed to enter once the previous client has left and the required cleaning of the chair area and common surfaces have been completed.

Sharp & Owen staff will refuse to allow you into the salon or provide your service if you show signs of being unwell.

Hand sanitize on entering Salon

No refreshments you are welcome to bring your own but will be required to take them away with you.

Your stylist will guide you through any other things which need to be observed throughout your appointment.

Next appointments

– Will not be made on the day. Please make new booking.
Chairs, surfaces, tools and equipment will be disinfected or sterilised in line with the specific manufacturers' instructions after each client.
We can confirm that we use single use towels which are disposed of after each use. All salon gowns will be changed and washed after each client.
Cost of services


Our Annual review of the Service Menu can be found here Services

All our colour prices are a guide and may require an additional charge if more product use or time is required but we will advise as best we can at the time of making the appointment.
The revised price levels are effective from the reopening date.
All of these procedures have been implemented for your health and safety and that of our staff. We will continue to take advice from the Government and the NHS regarding safe practice and will amend them as necessary.
We look forward to welcoming you back to the salon




Thank you for your understanding
Sharp & Owen Hair Salon Team